Simone M. - Testimony of Deliverance
If Jesus makes us free, we will indeed be free!
Published in January 2020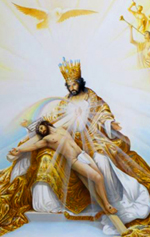 The Holy Word of God tells us, "So if the Son makes you free, you will be free indeed!"
(Jn 8:36).
We may trust the Word of God. This is the first and most important step in the fight against the attacks of the evil.
Have no anxiety about anything, but in everything by prayer and supplication with thanksgiving let your requests be made known to God. And the peace of God, which passes all understanding, will keep your hearts and your minds in Christ Jesus.
(Phil 4:6-7)
Cast all your anxieties on him, for he cares about you! (1 Pt 5:7)
The Holy Scripture is full of God's good promises. He is the best father a child can imagine. And we are His children.
This is exactly where the enemy comes in: He tries to persuade God's children that they cannot trust the good Father in heaven, that God abandons His children, that He will not take good care of them, that the Word of God is written by men and contains errors, that men must take care of themselves and their wellbeing, and all sorts of other lies. Satan is the father of lies. And thus, he and his followers try to persuade the children of God in every conceivable way to believe that they cannot trust the promises of God. And it is the original sin of man to believe these lies.
When I was in the midst of the worst struggle, I could not imagine that these terrible states and attacks would ever stop. I felt abandoned by God, misunderstood by my fellow brothers and at the mercy of evil. I kept thinking that I was about to be admitted to a psychiatric hospital. The more I myself believed that I was not mentally healthy, the worse the conditions became. From anxiety attacks, sheer panic and shortness of breath to depressive states and hopelessness, to trembling all over my body and the feeling of being psychotic, there was a whole range of states that attacked me in waves. In addition to the mental states, I suffered from physical pain as well as great weakness. As soon as an experienced priest prayed for deliverance and cut everything off, I felt better for a while. But the conditions kept coming back again and again.
Until the day when I decided to believe the Word of God unconditionally.
Since I myself could not find this faith in me, my first step was to ask God to give me this faith. I asked him, "Lord, with my free will I say 'yes' to you. I want to be your child and I want to believe you, hope in You and expect everything from You. But my faith is weak. Without Your grace I can do nothing. Therefore I ask You: Give me this unshakeable faith. And even if I don't feel anything, even if it feels different, I trust you that You will replace everything I lack. This is how I prayed.
Examination of Conscience and Confession
I asked God to show me what was separating me from Him and His grace. I was firmly determined to eradicate everything that stood between me and God. I asked him for the grace of a good examination of conscience and a good holy confession.
If you then, who are evil, know how to give good gifts to your children, how much more will the heavenly Father give the Holy Spirit to those who ask him!" (Lk 11:13)
God is good, faithful and merciful. What He promises to His children in the Holy Scripture, He does provide. As I asked Him for the necessary graces and for the help of the Holy Spirit, He granted this help immediately.
Over a period of about four weeks, the Holy Spirit repeatedly showed me incidents which I was allowed to bring into confession. Some events reached back far into the past, others were more recent. I confessed about every 2 to 3 days for the first two weeks. With every confession I became freer and the attacks weakened.
Obedience to the Commandments and Instructions of the Holy Mother Church
I was allowed to find out: The commandments and laws of our Holy Mother Church all have a meaning. The Holy Spirit knows what we need and from what dangers He must protect us. He leads us safely to heaven through the commandments, laws and directives of the Catholic Church. Obedience to these commandments and instructions thus is an important point. Also obedience to the confessor and spiritual counsellor. However, one should only obey the confessor and spiritual counsellor unconditionally if he himself is in obedience to the instructions of the Church.
At this point, the evil one had managed to grossly deceive me. Through a false spiritual companion he led me into disobedience to the instructions of the Catholic Church, which threw open a great entry gate for the evil one.
But as soon as I had confessed these and the other sins, which the Spirit of God showed me, and felt true remorse about them, I actually felt the gate close again. The grace and thus the protection of God increased. I literally disappeared in the shining white robe of faith.
Adoration, Rosary Prayer and Consecration to Mary as well as Increased Participation in the Holy Mass with Regular Reception of Holy Communion
The increased celebration of the Holy Mass and the reception of Holy Communion in the state of grace, i.e. after Holy Confession, also had a very strengthening and healing effect. Abiding in front of the Blessed Sacrament and the contemplative prayer of the mysteries of the Rosary also were a great help to me. I had the feeling that with every Holy Communion, with every prayer of the Rosary and with every additonaI minute I spent before the Blessed Sacrament, a protective wall grew around me. Faith, hope and love increased day by day. An important step for me also was the 33-day preparation for the Consecration to Mary with the book "33 Steps With Mary to Jesus!".
Every day I consecrated an area of my life to her. It was not my first consecration to Mary. But it was my first that I performed with so much seriousness. And our dear Heavenly Mum hastened to meet me with so much love and rich graces. She was a great help to me in this difficult struggle. Like a loving mother, she asked for the graces for me which I so desperately needed.
Reading and Praying the Holy Scripture, especially the Daily Readings
Reading the Holy Scripture and praying back His Word, as well as praising and glorifying God for His promises, again and again had a very delivering effect. Shouting out these truths over my own life also helped me a lot.
Example: Gospel Lk 5:12-13
Reading: While he was in one of the cities, there came a man full of leprosy;
My prayer: Lord, I come to you now with all my burdens, with my hurts and wounds.
Reading: When he saw Jesus, he fell on his face and besought him, "Lord, if you will, you can make me clean."
My prayer: Lord, I spiritually prostrate myself before you and I ask you: if you will, you can make me clean.
Reading: Then Jesus stretched out his hand, and touched him, saying, "I will; be clean."
My prayer: Jesus. I trust in you. You also stretch out your hand to me. Say to me: "I will; be clean." I beg you!
Being a Child Before God and Absolute Trust In Jesus
As soon as an attack came (in the form of thoughts, bodily states, doubts of faith or the like) I took refuge in Jesus. I simply prayed a fervent prayer, "Jesus. I am being attacked. Take care of everything!" Usually the condition disappeared immediately. If it did not disappear immediately. I prayed, "Jesus. I believe too little. Increase my faith." Even though the thoughts and conditions lasted for a moment, I simply ignored them and occupied myself with something else.
I found that I could handle the attacks well when I surrendered them to Jesus right from their onset through these acts of faith. However, if the attacks were very massive because I had paid too much attention to the lies and whisperings, or even believed them, it helped when a priest cut off these influences with authority and commanded the evil to leave me alone.
Exorcised Holy Water, Serapion Oil and Other Oils, Exorcised Candles, Incense and Prayers of Deliverance
Burning exorcised candles and incense also proved very effective. It was often the case that the attack stopped immediately as soon as I lit an exorcised candle and incense. Exorcised Holy Water also helped well. I blessed myself with it or took some Holy Water and asked for help with a fervent prayer. Anointing with exorcised oil and invoking the saints, especially those who are responsible for the deliverance service, also helped well.
I would especially like to mention the Serapion oil. A priest anointed me with this special oil, which was also consecrated by a bishop. It was also of greatest help to me. After this anointing, the intensity of the attacks was significantly weakened and on top of it, they happened much more rarely. It was a real blessing. I got the tip from a fellow Christian who also had to struggle with terrible attacks and who was completely delivered from further attacks by a single anointing. This success also showed with me. The attacks did not stop completely, but they were now easy to ward off.
Praying prayers of deliverance for lay people, litanies and prayers of sacrifice were also helpful. However, I found that it only helped well if I had prayed beforehand that the Lord may give me faith to believe in the effect. When my faith was too weak, my own prayers did not help either. However, it always helped when I asked fellow Christians for prayer. Especially the blessing of deliverance and the prayer of a priest. I was allowed to notice again and again that the evil then had to flee immediately.
Acceptance of Tribulations as Admitted by God and Sacrifice
The most important step I was able to take in my struggle for deliverance, however, was to accept these tribulations as admitted by God.
I rendered myself aware:
God is good. He loves me infinitely. So these terrible fears and attacks must have a meaning. Yes, even more: they must be good for me. I trusted in that. I prayed, "Lord, even though I don't understand why You allow these bad conditions, I trust in You and I sacrifice all these attacks to you. I offer them to you for the sanctification of families, for the sanctification of priests, for the poor souls in purgatory and for all those who need my prayer most urgently at the moment. I sacrifice them especially for all the intentions that You consider most important. All my fears and needs, I accept them." I stopped fighting these conditions but accepted them as a gift. (Important! This does not mean that I stopped fighting against evil. But I stopped fighting against these tribulations. Before, I was constantly asking God to deliver me from these attacks. Now I accepted these tribulations as a gift).
I admit, this step was the hardest. I was terribly afraid that the states would get even worse. I realised that I had a demonic image of God in me, because I really thought that when I surrendered completely to God, that He could ask even worse of me.
From my head I knew: God is love. He is the best Father and He wants the best for me. But in my heart there was a completely different image of God. My heart was suspicious. In reality, a demonic image of God dwelled in me. I realised: All these fears dwelt within me, because with my free will I believed the lies of the evil one and not the good promises of God. God had allowed these evil attacks. He wanted me to recognise this and he wanted to free me from these fears, from all the distrust and from the false image of God. He wanted to free me from all the rubbish that I had let into me all my life through false beliefs and ways of life. I realised: God holds His hand over everything and everyone - even over the attacks of evil. Even the hair on my head is counted by him. I may believe in his good promises!
We know that in everything God works for good with those who love him, who are called according to his purpose. (Rm 8:28)
Are not two sparrows sold for a penny? And not one of them will fall to the ground without your Father's will. But even the hairs of your head are all numbered. Fear not, therefore; you are of more value than many sparrows. (Mt 10:29-31)
So, against all my feelings, I decided to surrender myself completely to God. I attended a Holy Mass and prayed:
"Lord, I am so sorry. I would so much like to believe that You are a good God. My head knows that You are good. But in me, there is a completely different image of God. I distrust You. I believe that if I surrender myself to You, I will be bad off. I believe that You are punishing me with these conditions. That it is my fault that I'm so miserable. I'm sorry that I have such a terrible image of You. I lay this demonic image of God on the altar. Please heal me. Put the true image of God in my heart. Renew me completely. Make me trust in You. Make me a true child of God. Even though my feelings are now crying out and even though everything inside me is resisting. Here and now I nevertheless accept everything from your hand. I give you my body, my mind, my soul, my right to health, my finances. Everything I am and have. If you want these conditions and struggles to continue, I accept that too. The only thing I have at my command is my will, for You have given me this free will. And I now direct this will entirely towards You. I give it back to You voluntarily. I only want to have in my life what You want; now and forever, even if I am currently afraid of it. With this free will I now trust You unconditionally even in suffering and I thank You for showing me how much rubbish lives in me. Thank you for allowing all these conditions so that I can feel how much I need You. Thank you for making me feel very small and in need of help. I now know that out of myself I am and have nothing. I am completely dependent on You and Your love and I have realised that I am defenceless without You. I have realised how much I need You. Take me in Your arms as Your child. Papa, I want to be Your child completely. Your will be done. I will stop fighting now. You fight for me. I now trust You unconditionally. Please help me to trust You more and more every day, because at the moment I don't feel the trust yet. But I want to trust You and I say, "YES". Papa, your will be done! I want to be completely Yours. Forever!
I had prayed a similar life surrender many years ago. But at that time it was easy to pray because it was a "yes" in the midst of feeling good. These bad attacks now not only shook my life but really my whole being. I had known tribulations and suffering in the past. However, these previous tribulations did not shake me so comprehensively. I had really never suffered so badly in my life as during these phases and I have deep sympathy for all those who are equally attacked and tormented by evil. So the prayer of life surrender in this phase had a completely different content. Back then I said "yes" to God because He had given me feelings of well-being. Now I was saying "yes" to Him in the midst of the worst storms. And apparently this was exactly his plan. For this "yes" in the midst of the storms abruptly ended the struggle and allowed me to experience a freedom that I had read a lot about but apparently had not yet experienced myself.
There was a peace that sank deep into my soul. All the bad attacks stopped completely. This is not to say that all struggles per se ceased, for as long as we live, some struggle takes place and we can always decide anew for God and His kingdom. But those horrendous attacks that shook me so much and put me in such turmoil had stopped completely with this surrender of life.
I hope that with this testimony I may help all those who are currently undergoing such a phase. May the Lord richly bless and come to the help of all who will read it.